The Perfect Gift To Empower Your Girlfriends And To Boost Their Confidence!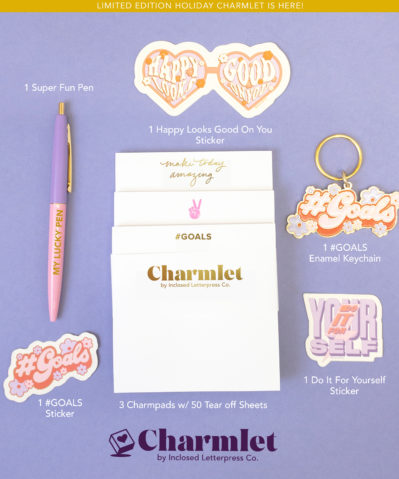 Say "hi" to our newest Charmlet: The #GOALS Charmlet! My inspiration behind for the #GOALS Charmlet was to create a gift to empower the women in your life to go after their dreams with fun reminders to help them along their journey. Whether it's a friend who is starting her own business, your sister who just bought a house, a co-worker who is on a weight-loss journey, or a friend who is going through a hard time, the #GOALS Charmlet will let them know YOU are their biggest cheerleader and there for them no matter what!
I had the honor to work with Lincoln based designer and creator – Allie from The Cold Hearted Co. to bring you the one-of-a-kind letterpress gift to send to the strong and colorful women in your life! Allie is kind of like the feminist friend I've always wanted to be, she is ultra talented, stands up for what she believes in, and cheers on women to be the best version of themselves. So of course I had to work with her, it was a match made in design heaven! lol!
The #GOALS Charmlet is a positive and uplifting gift to help you celebrate the strong women in your life this holiday season and into the New Year.
"Strong women stand together when things are rough, hold each other up when they need support, and laugh together when there's no reason to." – unknown
Each #GOALS Charmlet comes with:
Your choice of 3 letterpress Charmpads, our best selling notepads with 50 tear off sheets each
Card with handwritten message
A super cute pen
Colorful packaging that's a joy to unbox, PLUS we ship it for you! No post office visit required!
1 #Goals Enamel Keychain
Sup Fun Stickers filled with die cut stickers: #Goals, Happy Looks Good On You, Do It For Yourself
This is a LIMITED EDITION Charmlet, which means when they're gone, they're gone!