4 Ways To Support Women-Owned Businesses This October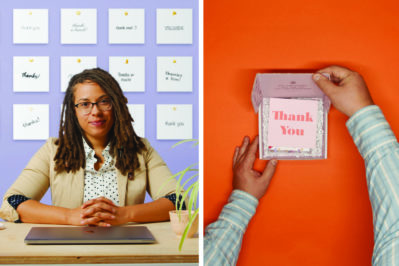 Here at Charmlet, we look forward to the fall for a lot of reasons. From the gorgeous changing leaves to the excuse to wear a cozy blanket sweater everywhere… to the chance to celebrate female entrepreneurship! The entire month of October is designated National Women's Small Business Month, making it a perfect time to support women-owned businesses. 
And to be honest, women-owned businesses could really use our support right now. While many businesses nationwide were hit hard by the pandemic, studies show that women-owned small businesses were disproportionately impacted. What's more, supporting women-owned businesses doesn't just help that one business owner – it's an investment in women's economic empowerment, gender parity in business, and a stronger economy overall.
How to Support Women-Owned Businesses This Month
When women support women, incredible things happen. But while one of the most meaningful ways to support a business is by spending your money there, there are many other ways to give women-owned businesses an extra boost. Here are a few ideas for how you and I can support women-owned businesses this month:
1. Make a Purchase
Use your wallet to show your support to women-owned businesses all over the country or in your community.
While supporting any women-owned business is a good thing, chances are small local businesses in your community could use your business more than ever. Research businesses that are women-owned and visit them. Here are a few of our favorite women-owned businesses in the Omaha, Nebraska area. (Bonus: many of them ship nationwide!)
2. Leave a Review
Once you've visited a new women-owned biz, don't stop there! Leave a quick review on Google, Yelp, or Facebook (or even all of the above!) to increase their online visibility. Even if you don't have the funds to do loads of extra shopping right now, you could always think back on women-owned businesses you've had great experiences with in the past and leave a thoughtful review.
3. Donate
If you have some extra funds on hand and you'd like to make a serious difference, consider donating to charities that support female entrepreneurs globally, like NAWBO, The Center for Women & Enterprise, or the Women's Global Empowerment Fund. If you don't have the $$ but would love to further the cause, donate your time to a local organization that support women in business instead. 
4. Spread the Word
Follow your favorite women-owned small businesses on social media and share their posts to your feed or story from time to time. It doesn't cost a dime, and it can help them reach a much larger audience!
Here at Charmlet, we couldn't be prouder to be a women-owned small business. It hasn't been easy, but we love creating hand-pressed products made for women, by women. Thanks again for your support this month and always! 💖